Raia wa Nigeria 640 wasajiriwa katika ubalozi wa Nigeria nchini Afrika Kusini na kundi la kwanza la raia hao litaondoshwa Jumatano kufuatia mashambulio dhidi ya raia wa kigeni nchini Afrika Kusini.
Ndege ya Air Peace itaondoka Johannesburg saa tatu kamili asubuhi kwa saa za Afrika Kusini na inatarajiwa kuwasili mjini Lagos kwa saa za Nigeria.
Kulingana na taarifa iliyotolewa na wizara ya mambo ya nchi za nje ya Nigeria kwenye ukurasa wake wa twitter inakadiriwa kuwa idadi ya raia 313 watachukuliwa kutoka Afrika Kusini katika awamu ya kwanza na waliosalia watasafirishwa siku za Alhamisi na Ijumaa wiki hii.
Ministry of Foreign Affairs, Abuja
———————————————

UPDATE ON THE EVACUATION OF NIGERIANS IN SOUTH AFRICA

640 Nigerian nationals have been registered at the Nigerian Missions in South Africa and the first batch will be evacuated today, Wednesday, 11th September, 2019.

— Ministry of Foreign Affairs, Nigeria 🇳🇬 (@AbujaMFA) September 11, 2019
Ministry of Foreign Affairs, Abuja
_______________________________

PRESS RELEASE

🔗 https://t.co/4u7IXdU8nO pic.twitter.com/hlcBWob3ri

— Ministry of Foreign Affairs, Nigeria 🇳🇬 (@AbujaMFA) September 11, 2019
Raia wa Nigeria wanaoishi Afrika Kusini walipewa ofa ya ndege za bure kurejea nyumbani kukwepa vurugu za kibaguzi zinazoendelea Afrika Kusini.
Wizara ya mambo ya Nje ya Nigeri ilisema mmliliki wa Shirika la Ndege la Air Peace yupo tayari kuwasafirisha bure wale wote watakaotaka siku ya Ijumaa.
Wote watakaotaka huduma hiyo wanashauriwa kuwasiliana na Ubalozi wa Nigeria jijini Pretoria na ofisi ndogo za ubalozi jijini Johannesburg jwa matayarisho muhimu," taarifa ya wizara ilieleza.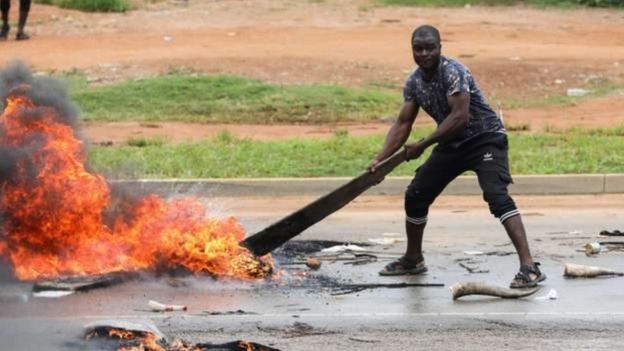 Mashambulizi ya biashara zinazomilikiwa na wageni nchini Afrika Kusini zimepokelewa kwa hasira kali na Wanaigeria ambao wanahisi wanalengwa na kuonewa.
Awali waziri wa Mambo ya Nje wa Nigeria Geoffrey Onyeama aliwaambia wanahabari siku ya Jumatano wiki iliyopita kuwa kulingana na taarifa zilizowafikia, hakuna raia wa Nigeria aliyepoteza uhai kwenye ghasia zinazoendelea.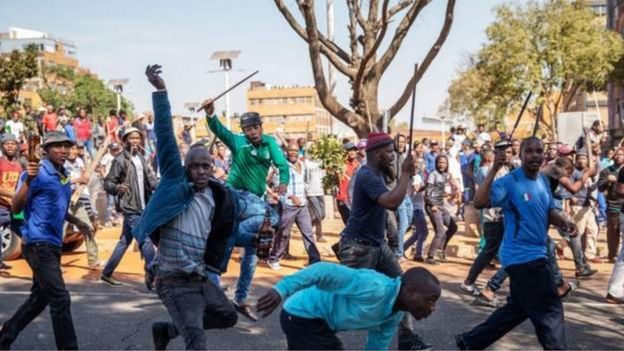 Hatua nyingine zilizochukuliwa dhidi ya Afrika Kusini
Hata hivyo, alisema watadai fidia kwa biashara zote za raia wa nchi hiyo zilizoshambuliwa.
Nigeria imesusia kuhudhuria Mkutano wa Kimataifa wa Uchumi unaofanyika Afrika Kusini kutokana na ghasia zinazoendelea.
Serikali ya Nigeria tayari iliwaonya raia wake waliopo Afrika Kusini wasisafiri ama kuelekea kwenye maeneo ambayo ghasia hizo zimeshamiri mpaka pale hali itakapotengemaa.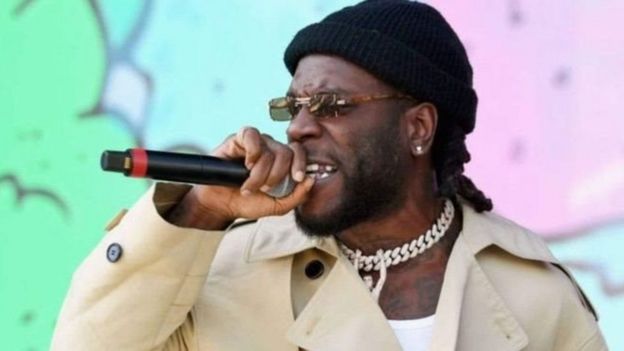 Kwa mujibu wa BBC. Mashambulizi ya kulipa kisasi kwa makampuni ya Afrika Kusini yaliyowekeza Nigeria pia yalifanyika , hali iliyoilazimu kampuni kubwa ya mawasiliano ya simu- MTN – kufunga vituo vyake vya biashara kote nchini Nigeria.
Rais Muhammadu Buhari alisema kuwa anamtuma mwakilishi wake kwenda Afrika Kusini kueleza 'ghadhabu' zao juu vurugu zinazoendelea.
Wiki iliyopita mwandishi na muimbaji wa muziki nchini Nigeria Tiwa Savage alitangaza kwenye tamasha alilokuwa amepanga kushiriki nchini Afrika Kusini baadaye mwezi huu kwa sababu ya ghasia zinazoendelea dhidi ya raia wa kigeni.
Mwanamuziki huyo wa nyota wa mtindo wa Afrobeats alikuwa amepangiwa kufanya shoo katika jukwaa kuu la tamasha la DSTV Delicious Jumamosi ya tarehe 21 Septemba mjini Johannesburg, mji ambao kumeshuhudiwa ghasia kubwa na uporaji wa maduka mengi yanayomilikiwa na raia wa kigeni kutoka mataifa ya Afrika.
Kabla ya yake, msanii Burna Boy pia kutokanchini Nigeria ameapa kutokanyaga Afrika Kusini baada ya ghasia dhidi ya raia wa kigeni kuzuka upya nchini humo.
By Ally Juma.