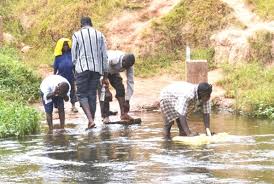 Rakai woman member of parliament Juliet Kinyamatama, has expressed her concern over rampant absenteeism of children from school. She made these remarks during the fundraising of the construction of the new Catholic Church in Bulanga Rakai district.
She said  absenteeism of school going children in the district is caused by lack of clean and safe water in the area to the extent that instead of going to school, school going children have resorted to fetching water for domestic use which is got from far places.
She said teachers in the district wait for the children to come to class but the pupils are out looking for water from far distances hence missing classes which has greatly contributed to poor performance in class.
She urged government to construct small dams in the area as one way of mitigating the challenge.
"We ask government to put small dams at least at every parish so that people and livestock can get water because people are serious suffering and our animals are dying almost each day in our district," she noted. 
She added that during the season of dry spell the locals struggle a lot and some end up in neighbouring Tanzania where they get arrested for illegal entry. 
She also said president Museveni had promised to extend piped water unfortunately his promises were all in vain.
"We ask government to get a loan to fix the water crisis in Rakai, we shall support the government on this issue because you can look at the situation, it's worsening each day," she said. 
Some NRM local leaders  raised the concern that all  NRM chairpersons at different levels were promised to be given motorcycles or bicycles to ease the movement but all the promises were futile.
The speaker of parliament Rebecca Kadaga said government had planned to give motorcycles to LC3 chairpersons and the issue of transport will be solved by November 2019.
She also implored the locals to move a motion on the issues of the bicycles so that all chairpersons in the district  are in position to get the rides. Kadaga also donated four million shillings towards the construction of the new catholic church at Bulanga village in Rakia.